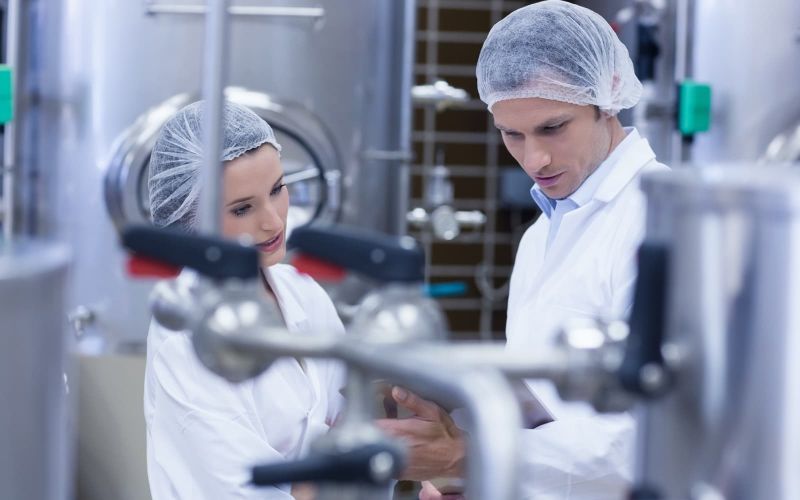 Introduction to HABC Level 2 HACCP for Manufacturing (RQF) Course
The HABC Level 2 Award in HACCP for Food Manufacturing (RQF) is aimed at those working in a food manufacturing environment. The qualification is intended for delegates already working in food manufacturing and those who are preparing to work in the industry.
This qualification covers the principles of HACCP including the procedures required to develop HACCP and how the principles are applied in a food production environment.
Duration
1 Day, 09:30 – 17:00
Who should attend?
The Level 2 Certificate in HACCP is appropriate for all persons employed in food and food-related businesses that need to have an understanding of HACCP principles.
Prior knowledge
There are no prerequisites for this qualification, although it is recommended that learners already hold a Level 2 Award in Food Safety in Manufacturing or equivalent and have a minimum of Level 1 in literacy/English or equivalent.
Course objectives
The objective of the qualification is to support those who are or will be part of a HACCP (hazard analysis and critical control points) team within a manufacturing environment.
Course content
Introduction to HACCP
Prerequisite programs
Intended use of products
Process flow diagrams
Hazard analysis
Determining Critical Control Points
Determining Critical limits
HACCP Monitoring
Corrective actions
Verification and validation
HACCP Documentation
HACCP Review
What are the benefits
On successful completion, delegates will have a good awareness of HACCP principles. Delegates will be able to identify the procedures required to develop HACCP and understand how the principles are applied in a food production environment.
In-House Courses
Offering better value for money, they can be designed to closely match your specific requirements.
Style of Delivery and Course Leaders
Our course tutors have substantial experience in the understanding of HACCP and related legislation. They are qualified and experienced with extensive practical knowledge across a wide range of sectors in manufacturing, catering and retail.
Certification
Delegates completing the HABC Level 2 HACCP for Manufacturing (RQF) course and examination will be awarded a Highfield Qualifications certificate. Qualification Number: 603/2196/9. The RQF is a qualification framework regulated by Ofqual. It is also suitable for delivery in Wales and is regulated by Qualifications Wales.
HABC Level 2 HACCP for Manufacturing (RQF)

Make Enquiry
Make Enquiry
You have selected:
Course: HABC Level 2 HACCP for Manufacturing (RQF)
Number of Candidates: 1
Course Date: In House Only
Why train with IQMS
Accelerated Learning techniques
Flexible training options: classroom, in-house, and online
Learn from top auditing and quality practitioners
Internationally accredited courses