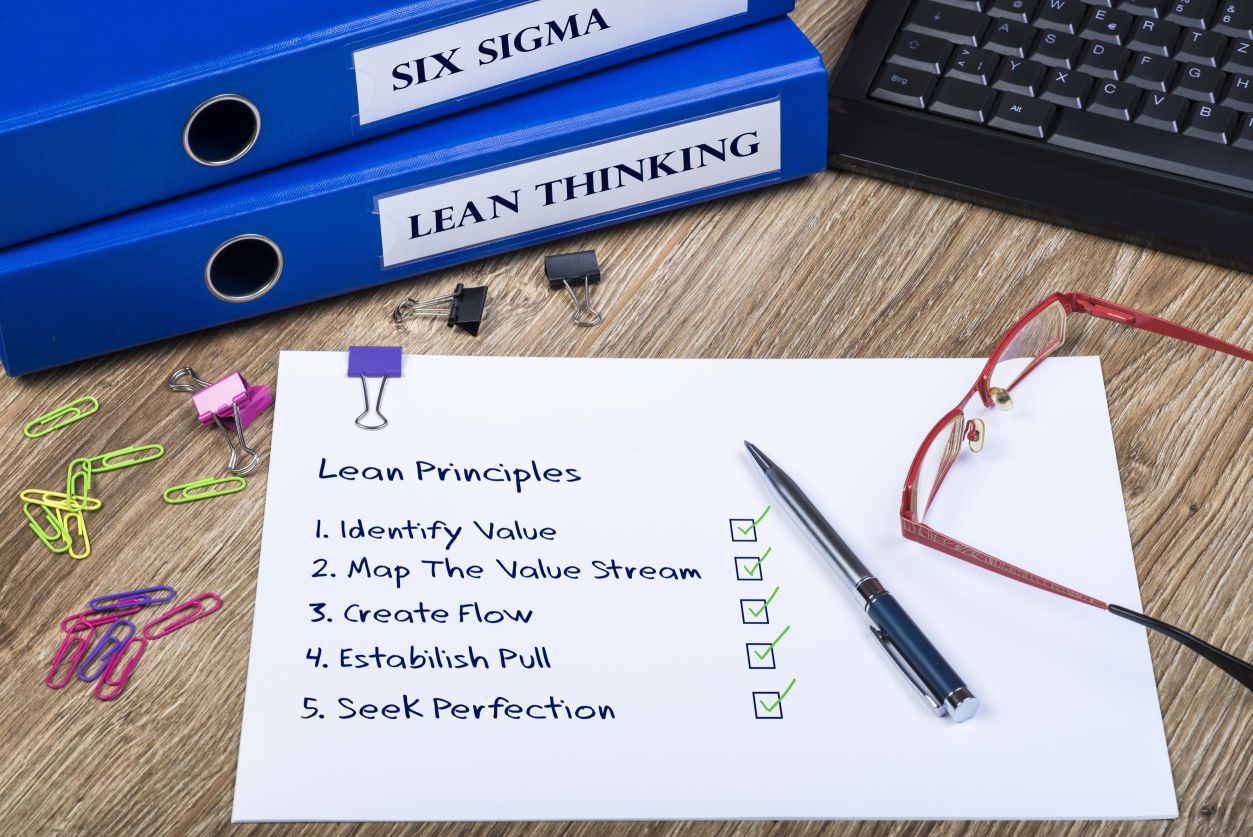 Introduction
This highly interactive 3 day internationally recognised training program is designed for those people who require a basic understanding of the techniques and principles of Lean. We do not touch on heavy statistical analysis during Lean Foundation or Practitioner program. Please see Lean 6 Sigma Programs.
Duration
3 Days, 9.00-16.00 (including exam on the final day)
Who should attend?
Lean is used across all sectors and all different sizes of business.
Manufacturing
Health Services
Financial Services
Retail
Government Services
Education
Oil and Gas Services
Logistics and Supply Chain Services
Lean Practitioner is intended for those who plan to lead process improvement project and / or problem-solving activities. Ideally, they would be supported by a number of staff who have completed the Lean Foundation course.
Course objectives
This course is for those businesses who feel they do not want or need to use heavy statistical analysis. Lean provides an understanding of a proven approach for the positive transformation of any organization by using the principles, methods, tools, and techniques to improve the key processes that make up the organization. The course is intended for the delegates to 'think differently' during their working day to work smarter, not harder.
Lean specifically offers the following benefits:
Improved Quality of products and services
Improves efficiency
Improved delivery times
Reduced waiting times
Reduced costs
Improved customer satisfaction
Improved employee morale
Course content
This course takes a deeper dive into some of the subjects already discussed in the Foundation element, in addition:
Respect for people
Building Lean Teams
Visual Management
Advanced VOC & CTQ
Lean Metrics
Advance Problem Solving
Prioritization tools – Pugh Matrix
Value Stream Mapping
What are the benefits
In order to demonstrate a thorough understanding of the topics discussed, there is an examination on Day 3 of this course. This is a multi-choice open book exam. On successful completion, delegates can call themselves certified a Lean Practitioner and have the knowledge to lead process improvement teams. Having several Practitioners within the organization will give ownership in applying continuous improvement to make their processes Safer, Easier, Better, Faster and Cheaper resulting in improved customer satisfaction and business stability
In-House Courses
Offering better value for money, they can be designed to closely match your specific requirements.
Style of Delivery and Course Leaders
This course delivered in partnership with Lean 6 Services. Our course leaders have extensive industrial experience. They are qualified and experienced Process / Operational Managers with extensive practical management experience across a wide range of sectors including manufacturing, finance, pharmaceuticals, local and national government. We have extensive experience working across cultural boundaries, through our work in Europe, Africa, the Middle East, Asia and the Americas
Certification
Delegates successfully completing the course will be awarded an ILSSI (international Lean Six Sigma Institute) Accredited training certificate.
Lean Practitioner
Make Enquiry
Make Enquiry
You have selected:
Course: Lean Practitioner
Number of Candidates: 1
Course Date: In House Only
Why train with IQMS
Accelerated Learning techniques
Flexible training options: classroom, in-house, and online
Learn from top auditing and quality practitioners
Internationally accredited courses