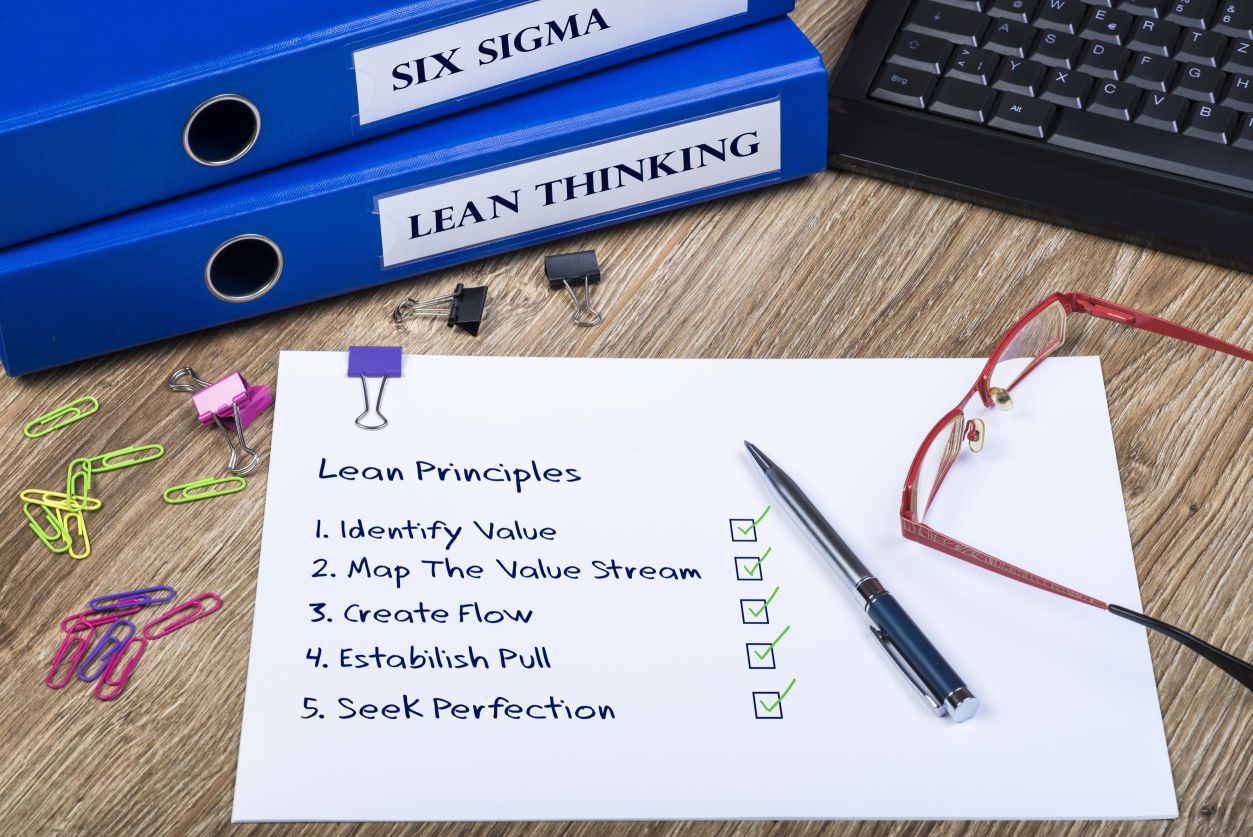 Introduction
This highly interactive 1 day internationally recognised training program is designed for those people who require a basic understanding of the techniques and principles of Lean 6 Sigma.
What is Lean Six Sigma?
Lean Six Sigma is a set of principles, methods, tools and techniques for process improvement in all forms of work and business. Most of its principles, methods, tools and techniques have been developed over many decades and even centuries…however the term 'Lean' developed out of the effective implementation of these principles, methods, tools and techniques by Toyota car manufacturing in the 1960's, 70's and 80's and the term 'Six Sigma' was coined by Motorola in the 1980's as the name for their Quality improvement program.
Six Sigma, a data-driven approach to eliminate defects in processes, was introduced and developed at Motorola. Statistical analyses of processes are combined with organizational rewards. Six Sigma evolved side-by-side with Lean, and although can be used as independent entities, they also complement each other very well.
Duration
1 Days, 9.00-16.00
Who should attend?
Lean Six Sigma is used across all sectors and all different sizes of business.
Manufacturing
Health Services
Financial Services
Retail
Government Services
Education
Oil and Gas Services
Logistics and Supply Chain Services
Lean 6 Sigma White Belt is the beginning of the journey of behavioral and cultural change. All employees can benefit from this course enabling them to understand the methodologies and assist those who are involved in process improvement activities.
Course objectives
Lean Six Sigma provides a comprehensive and proven approach for the positive transformation of any organization by using the principles, methods, tools, and techniques to improve the key processes that make up the organization.
Lean Six Sigma specifically offers the following benefits:
Improved Quality of products and services
Lower amounts of defects, scrap, and rework
Improved delivery times
Reduced waiting times
Reduced costs
Improved customer satisfaction
Improved employee morale
Course content
Brief history of Lean and Six Sigma
5s (Workplace organization)
8 Typical Wastes found in most processes
Visual management
Standardization
Kaizen Activities / Plan, Do, Check, Act (Adjust)
Basic Problem Solving
What are the benefits
There is no examination during this course, as the delegates are fully engaged throughout the day. At the end of the course, they will be equipped with the knowledge required to understand basic process improvement techniques, their benefits and some of the terminology used in readiness to assist their co-workers.

In-House Courses
Offering better value for money, they can be designed to closely match your specific requirements.
Style of Delivery and Course Leaders
This course is delivered in partnership with Lean 6 Services. Our course leaders have extensive industrial experience. They are qualified and experienced Process / Operational Managers with extensive practical management experience across a wide range of sectors including manufacturing, finance, pharmaceuticals, local and national government. We have extensive experience working across cultural boundaries, through our work in Europe, Africa, the Middle East, Asia and the Americas
Certification
Delegates successfully completing the course will be awarded an ILSSI (International Lean Six Sigma Institute) Accredited training certificate.
Lean Six Sigma White Belt
Make Enquiry
Make Enquiry
You have selected:
Course: Lean Six Sigma White Belt
Number of Candidates: 1
Course Date: In House Only
Why train with IQMS
Accelerated Learning techniques
Flexible training options: classroom, in-house, and online
Learn from top auditing and quality practitioners
Internationally accredited courses